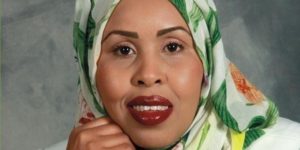 It would be great to hear from an accomplished author, and to learn more about Somali culture, so we can be ready to provide outstanding library service! Come meet Hudda Ibrahim!
Check out this event happening Wednesday July 12, at the St. Cloud Technical & Community College Library. (If you missed the July 12th event, mark your calendar for July 29th! Barnes and Noble St. Cloud is hosting Hudda Ibrahim along with other authors for a similar event. More info here.)
You're Invited!
HUDDA IBRAHIM BOOK-SIGNING EVENT
From Somalia to Snow: How Central Minnesota Became Home to Somalis
Time: 3:30 to 5:30 p.m. (There will be a brief program at 4 p.m.)
Date: Wednesday, July 12
Place: St. Cloud Technical & Community College Library
From "Somalia to Snow" gives readers an invaluable insider's look into the lives and culture of our Somali neighbors and the important challenges they face. Designed with a diverse audience in mind, this book is a must-read for students, healthcare professionals, business owners, social service agencies and anyone who wants to better understand the Somali people in Minnesota. READ RECENT PRESS
The book can be purchased at the event for $22.00 or at www.HuddaIbrahim.com.
Date and Time
Wed, July 12, 2017
3:30 PM – 5:30 PM CDT
Location
St. Cloud Technical & Community College Library
1540 Northway Drive
St. Cloud, MN 56303
Somali translation: Continue reading HUDDA IBRAHIM BOOK-SIGNING EVENT →