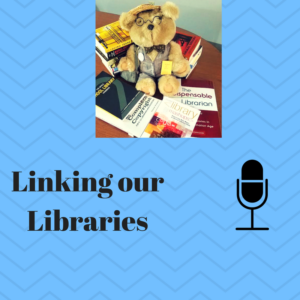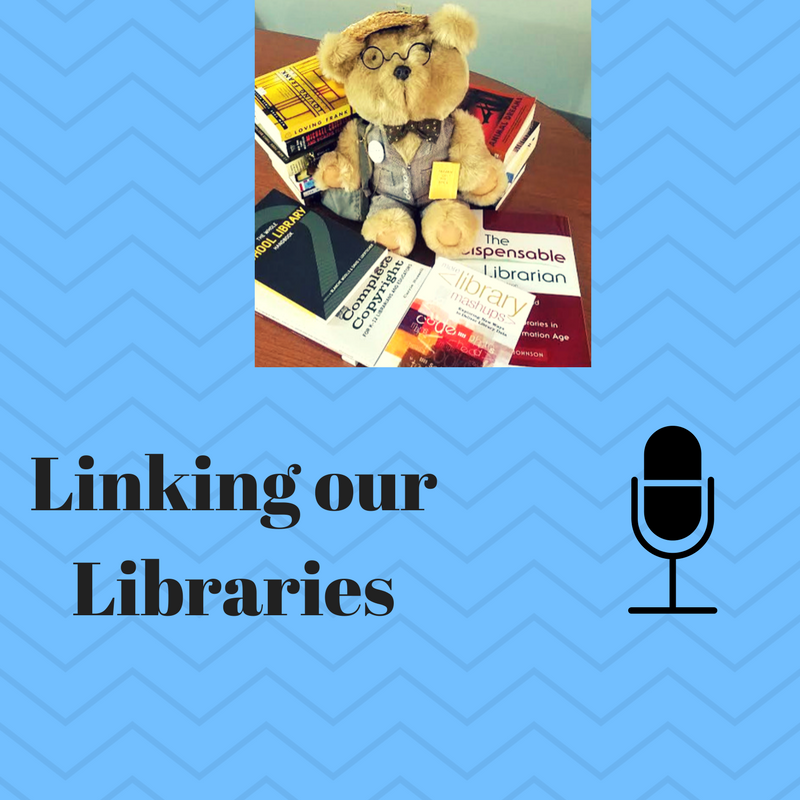 Tune into our podcast, to find out all the great things happening in all sorts of libraries! Scroll down to see blurbs on each episode, and links to the full information for each.
You can listen to each episode here; or you can download them at iTunes or your favorite podcast app! (enter this RSS feed if you can not easily find it: http://libraries.blubrry.com/feed/podcast/ )
Upcoming Podcast Topics:
Library Gardens: it's Spring – time for gardens to start! libraries  have a wide variety of gardens they share with their communities (Coming April 20)
Reader's Advisory: we read books and talk about genres and recommendations, and how to share your ideas! (Coming April 27)
Stress in the Library Workplace: we love libraries, but they can be tough places to work some days; take a deep breath and let's do this together
Gamification in the Library: playing games is serious business, but we can have fun with it
Basics of Copyright: library people are often responsible for copyright in their organization, and it can be tough!
Information Literacy: we do a lot of work to help our communities find good information
Special Libraries: we love all our libraries, but some libraries serve some very unique and specialized communities
Local History Collections: libraries and archives collect and share this material – let's share it with everyone!
So many libraries have art, either as displays or as circulating items, we really have a lot to enjoy! Thank you this week to our Guest Hosts: Becky Pflueger from St. Cloud Public Library and Jennifer Penzkover, St. Cloud Arts Commission Coordinator. And a big thank you to library people across assorted listerves and across the country, who responded to our call for information about art in their libraries! (All photos below belong to the library (or person) submitting them to us. )
This week we look at the topic of service to our emerging bilingual community members! There is so much to cover here, we just looked at a few library programs and resources. Send us your programs, materials, ideas; and we will post all of them to our website!
Check out our website for more information about this topic, the library stories we followed, the books we read, and our Spotlight Library: Hennepin Public Library!
To listen to this podcast episode, you can click here; or download it from iTunes or your favorite podcast app!
This week we looked an at an array of library digitization projects, and it was amazing to see all the materials that have been preserved by all kinds of libraries!We looked at three different projects, talked about books we read, and admired our Spotlight Library: St. John's University's Hill Museum and Manuscript Library. And, we had our first guest: Maria Burnham from Sauk Rapids-Rice High School!
To listen to this podcast episode, you can click here; or download it from iTunes or your favorite podcast app!
This week we talked about the amazing range of programs being offered in all sorts of libraries. Be sure to look through the links we give below, to see just how vast the spectrum of ideas would be for your library! Programs can be a fun way to bring in new people, and to meet the information needs of your current patrons.
This week we are looking at library makerspaces!
Makerspaces are an exciting trend in libraries of all types and sizes. Although their traditional programs are STEM/STEAM based technology learning, they can involve all sorts of programs that inspire patrons to try new skills and to create new things.
Our spotlight library this week is the Lewis and Clark Elementary Media Center in Liberty, MO. They are not only doing some very interesting work with their makerspace, in addition to sharing ideas for starting your own makerspace!; they also have some great resource for their community.
This week we talk about the fun and interesting materials you might find in a library!
People's vision of a library tends to revolve around books and computers, and of course we have those things. But there is so much more available!
This week our Spotlight Library is the Chelmsford Public Library. This is a library that has a lot of great innovation in their programming and services, as well as materials!

In this episode, we look at library outreach programs. Tune in here to learn about ALA resources, and libraries that are doing some interesting outreach programs that you can try. We share some books we are reading. And our Spotlight Library of the week is the Hennepin County Library; listen to find out all the great things they are doing!
Do you want to talk to us about these topics, or do you have suggestions for upcoming shows??? Just fill out the comment box below, and we will be ready to help you!