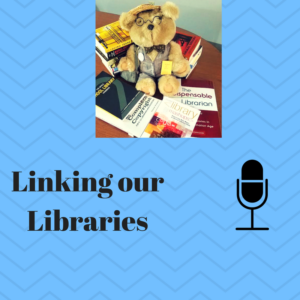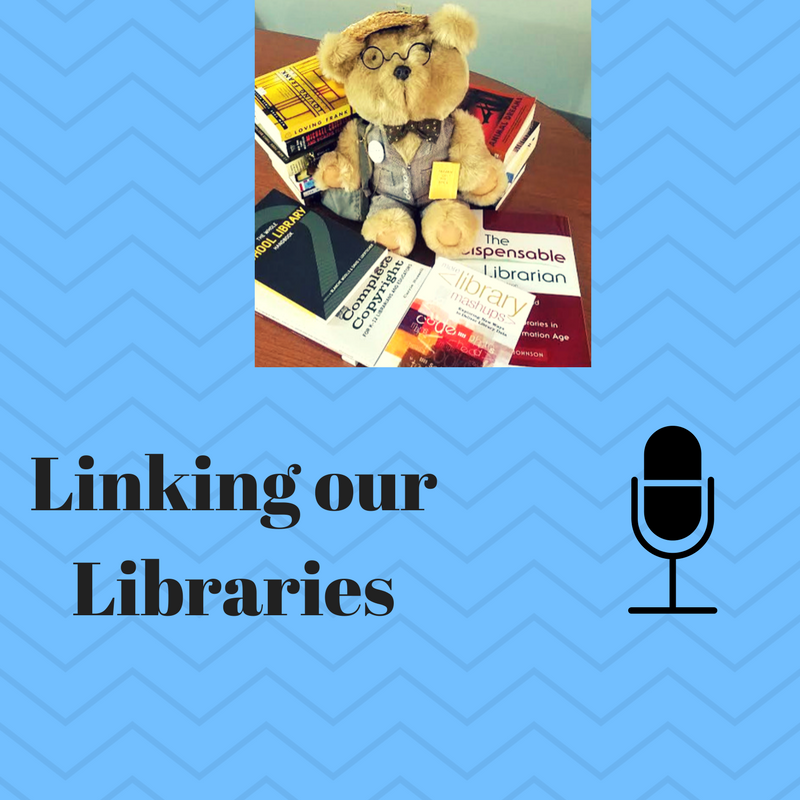 Tune into our podcast, to find out all the great things happening in all sorts of libraries! Scroll down to see blurbs on each episode, and links to the full information for each.
You can listen to each episode here; or you can download them at iTunes or your favorite podcast app! (enter this RSS feed if you can not easily find it: http://libraries.blubrry.com/feed/podcast/ )
Upcoming Podcast Topics:
Stress in the Library Workplace: we love libraries, but they can be tough places to work some days; take a deep breath and let's do this together
Gamification in the Library: playing games is serious business, but we can have fun with it
Information Literacy: we do a lot of work to help our communities find good information
Special Libraries: we love all our libraries, but some libraries serve some very unique and specialized communities
Local History Collections: libraries and archives collect and share this material – let's share it with everyone!
Episode Eleven: Copyright
(You can listen to our podcast on iTunes or any other podcast app; or you can stream it here!)
Topic of the Week: Copyright
We will start off by looking at the history of copyright, and getting some ideas about how it has developed over time. Ownership is a big deal, and the rights of a creator to the products s/he has developed are important. Copyright helps to protect that absolute right to complete ownership, and also gives the rest of us some opportunities to use the material created.
Copyright is federal law; so unlike most of what we discuss – it has specific meanings, and specific penalties for breaking these laws! (and they can be pretty steep – not jail but a lot of money)
Federal law means it only applies to the US: every country has its own copyright laws and protections for intellectual property
The specifics can be very tricky to master; but the basics are often the responsibility of a library to know and enforce (such as: as copyright applies to ILL of copies of articles in journals, or how photocopy machines can violate http://www.nolo.com/legal-encyclopedia/copyright-libraries-photocopy-machines.html )
As technology changes, and formats change, violations of copyright and intellectual property become both more difficult to enforce and difficult to regulate
We have dozens of links to materials we discussed here, information on copyright in libraries, copyright with new technology, and training your patrons in copyright rules.
There are so many libraries all over the place, we want to bring you a few you might not know about yet
We will gush over a couple we have visited; then look at some other interesting libraries. There are thousands of libraries we could be looking at, so we picked some that are interesting right now, though not selected as representatives of their region.
We will revisit this topic again (probably multiple times!); so send us some of your favorites, or you are interested in hearing about in an upcoming episode
We are library people, and of course there are many other things we do in addition to reading books – but we do love to read books too!
There are so many genres out there – you can not know them all, but you need to be ready to help patrons find books across all of them. Check out this enormous list, and start thinking about books! No one person can know it all, so we need to work on strategies for learning enough to help our patrons!
Libraries and gardens. At first, they may not seem to have much in common; but we grow ideas and knowledge already – and many of us also grow plants, flowers, trees and vegetables!
Thank you to all the libraries who responded to our call for information and photos – everything we discuss today came from these libraries, eager to share their information!
Our Spotlight Library this week has one of the most famous library gardens: the Salt Lake City Public Library. Check out the links we provide, and look around at all the great photos of this beautiful building, with their rooftop garden and their community garden!
So many libraries have art, either as displays or as circulating items, we really have a lot to enjoy! Thank you this week to our Guest Hosts: Becky Pflueger from
St. Cloud Arts Commission Coordinator
 And a big thank you to library people across assorted listerves and across the country, who responded to our call for information about art in their libraries! (All photos below belong to the library (or person) submitting them to us. )
This week we look at the topic of service to our emerging bilingual community members! There is so much to cover here, we just looked at a few library programs and resources. Send us your programs, materials, ideas; and we will post all of them to our website!
Check out our website for more information about this topic, the library stories we followed, the books we read, and our Spotlight Library: Hennepin Public Library!
Older Episodes:
Do you want to talk to us about these topics, or do you have suggestions for upcoming shows??? Just fill out the comment box below, and we will be ready to help you!