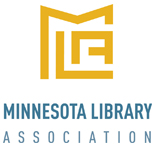 "Dear Minnesota Library Supporter,
This year the annual Minnesota Library Association conference will be held in Rochester, MN on October 5-6. We expect the conference to be attended by hundreds of librarians, trustees, exhibitors, and Friends of Libraries from across Minnesota.
This year's conference theme is Radical Librarianship – the power of libraries to provide access to the truth, strengthen our community voices, create opportunity for exploration and innovation, and assist our patrons to build a better future.
The Minnesota Library Foundation's mission is "to benefit the community by raising and distributing funds to enhance the services and increase public awareness of Minnesota libraries." Some of the ways that the money raised by the Silent Auction has been given back to the greater Minnesota library community have included:
helping libraries recover from disasters
sponsoring the MILE Leadership Institute
supporting the Minnesota Book Awards
providing small grants to libraries across the state
Continue reading Minnesota Libraries are in need of radical support in 2017 →